rosamariorduna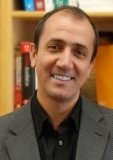 Professor
Director, Integrative Center for Learning and Memory
Ph.D.: Rutgers University
Primary Area: Behavioral Neuroscience
Home Department: Neurobiology
Address: 2554 Gonda Cntr
Phone: x46345
Email: silvaa@mednet.ucla.edu
Research and Teaching Interests:
The Silva laboratory is studying the biology of learning and memory. They are interested in the molecular, cellular and circuit processes that underlie the allocation, encoding and storage of information. To accomplish this, they are using a variety of techniques including sophisticated molecular and genetic approaches, optical physiology, optogenetics, in vivo imaging and behavioral analysis.
Silva and colleagues have also studied the impact of these mechanisms in animal models of cognitive disorders, including intellectual disabilities. Based on these mechanistic studies, they have developed treatments for Neurofibromatosis type I and Tuberous Sclerosis, that are currently being tested in clinical trials. The Silva laboratory is also developing bioinformatic strategies for tracking and planning experiments.
Biography:
Alcino J. Silva pioneered the field of Molecular and Cellular Cognition, and in 2002 founded and became the first President of the Molecular and Cellular Cognition Society. In 2006/2007 Dr. Silva served as Scientific Director of the Intramural Program of the National Institute of Mental Health. He currently serves as the Director of The UCLA Integrative Center for Learning and Memory and is a Distinguished Professor in the Departments of Neurobiology, Psychiatry & Biobehavioral Sciences and Psychology at UCLA. His laboratory is searching for the molecular, cellular and circuit processes that underlie the allocation, encoding, and storage of information in the brain. Insights into mechanisms of memory are being used to unravel the causes and develop treatments for cognitive deficits associated with aging, intellectual disabilities, and autism. Key discoveries in his laboratory include some of the first mechanisms of mammalian synaptic plasticity involved in learning and memory (e.g., the role of synaptic calmodulin kinase II and the transcription factor CREB), the first molecular and cellular mechanisms of remote memory in neocortical circuits, first description of memory allocation processes in the brain, first report that adult treatments may revert cognitive deficits associated with neurodevelopmental disorders, development of treatments in mice for Neurofibromatosis type I, Tuberous Sclerosis and Noonan Syndrome, two of which were followed up with large scale clinical trials,  and the discovery of a set of algorithms to track causal information in biology (researchmaps.org). In recognition of his contributions to Molecular and Cellular Cognition, he was recently awarded the Portuguese National Order of Knighthood (Order of Prince Henry), Senior Roche Award For Translational Neuroscience, and became a fellow of the American Association for the Advancement of Science.
Representative Publications:
Silva, A.J. and R. White, Inheritance of allelic blueprints for methylation patterns. Cell, 1988. 54(2): p. 145-52.  PMID: 2898978. Silva, A.J., R. Paylor, J.M. Wehner, and S. Tonegawa, Impaired spatial learning in alpha-calcium-calmodulin kinase II mutant mice. Science, 1992. 257(5067): p. 206-11.  PMID: 1321493. Silva, A.J., C.F. Stevens, S. Tonegawa, and Y. Wang, Deficient hippocampal long-term potentiation in alpha-calcium-calmodulin kinase II mutant mice. Science, 1992. 257(5067): p. 201-6.  PMID: 1378648. Bourtchuladze, R., B. Frenguelli, J. Blendy, D. Cioffi, G. Schutz, and A.J. Silva, Deficient long-term memory in mice with a targeted mutation of the cAMP-responsive element-binding protein. Cell, 1994. 79(1): p. 59-68.  PMID: 7923378. Grant, S.G. and A.J. Silva, Targeting learning. Trends Neurosci, 1994. 17(2): p. 71-5. Chapman, P.F., B.G. Frenguelli, A. Smith, C.M. Chen, and A.J. Silva, The alpha-Ca2+/calmodulin kinase II: a bidirectional modulator of presynaptic plasticity. Neuron, 1995. 14(3): p. 591-7.  PMID: 7695905. Silva, A.J., T.W. Rosahl, P.F. Chapman, Z. Marowitz, E. Friedman, P.W. Frankland, V. Cestari, D. Cioffi, T.C. Sudhof, and R. Bourtchuladze, Impaired learning in mice with abnormal short-lived plasticity. Curr Biol, 1996. 6(11): p. 1509-18.  PMID: 8939606. Kogan, J.H., P.W. Frankland, J.A. Blendy, J. Coblentz, Z. Marowitz, G. Schutz, and A.J. Silva, Spaced training induces normal long-term memory in CREB mutant mice. Curr Biol, 1997. 7(1): p. 1-11.  PMID: 8999994. Silva, A. and et al, Mutant mice and neuroscience: recommendations concerning genetic background. Banbury Conference on genetic background in mice [see comments]. Neuron, 1997. 19(4): p. 755-9. Silva, A.J., P.W. Frankland, Z. Marowitz, E. Friedman, G.S. Laszlo, D. Cioffi, T. Jacks, and R. Bourtchuladze, A mouse model for the learning and memory deficits associated with neurofibromatosis type I. Nat Genet, 1997. 15(3): p. 281-4.  PMID: 9054942. Cho, Y.H., K.P. Giese, H. Tanila, A.J. Silva, and H. Eichenbaum, Abnormal hippocampal spatial representations in alphaCaMKIIT286A and CREBalphaDelta- mice. Science, 1998. 279(5352): p. 867-9.  PMID: 9452387. Giese, K.P., N.B. Fedorov, R.K. Filipkowski, and A.J. Silva, Autophosphorylation at Thr286 of the alpha calcium-calmodulin kinase II in LTP and learning. Science, 1998. 279(5352): p. 870-3.  PMID: 9452388. Anagnostaras, S.G., S.A. Josselyn, P.W. Frankland, and A.J. Silva, Computer-assisted behavioral assessment of Pavlovian fear conditioning in mice. Learn Mem, 2000. 7(1): p. 58-72.  PMCID: PMC311321. Costa, R.M., T. Yang, D.P. Huynh, S.M. Pulst, D.H. Viskochil, A.J. Silva, and C.I. Brannan, Learning deficits, but normal development and tumor predisposition, in mice lacking exon 23a of Nf1. Nat Genet, 2001. 27(4): p. 399-405.  PMID: 11279521. Frankland, P.W., C. O'Brien, M. Ohno, A. Kirkwood, and A.J. Silva, Alpha-CaMKII-dependent plasticity in the cortex is required for permanent memory. Nature, 2001. 411(6835): p. 309-13.  PMID: 11357133. Ohno, M., P.W. Frankland, A.P. Chen, R.M. Costa, and A.J. Silva, Inducible, pharmacogenetic approaches to the study of learning and memory. Nat Neurosci, 2001. 4(12): p. 1238-43.  PMID: 11713472. Costa, R.M., N.B. Federov, J.H. Kogan, G.G. Murphy, J. Stern, M. Ohno, R. Kucherlapati, T. Jacks, and A.J. Silva, Mechanism for the learning deficits in a mouse model of neurofibromatosis type 1. Nature, 2002. 415(6871): p. 526-30.  PMID: 11793011. Elgersma, Y., N.B. Fedorov, S. Ikonen, E.S. Choi, M. Elgersma, O.M. Carvalho, K.P. Giese, and A.J. Silva, Inhibitory autophosphorylation of CaMKII controls PSD association, plasticity, and learning. Neuron, 2002. 36(3): p. 493-505.  PMID: 12408851. Kida, S., S.A. Josselyn, S.P. de Ortiz, J.H. Kogan, I. Chevere, S. Masushige, and A.J. Silva, CREB required for the stability of new and reactivated fear memories. Nat Neurosci, 2002. 5(4): p. 348-55.  PMID: 11889468. Ohno, M., P.W. Frankland, and A.J. Silva, A pharmacogenetic inducible approach to the study of NMDA/alphaCaMKII signaling in synaptic plasticity. Curr Biol, 2002. 12(8): p. 654-6.  PMID: 11967152. Silva, A.J. and S.A. Josselyn, The molecules of forgetfulness. Nature, 2002. 418(6901): p. 929-30.  PMID: 12198533. Anagnostaras, S.G., G.G. Murphy, S.E. Hamilton, S.L. Mitchell, N.P. Rahnama, N.M. Nathanson, and A.J. Silva, Selective cognitive dysfunction in acetylcholine M1 muscarinic receptor mutant mice. Nat Neurosci, 2003. 6(1): p. 51-8.  PMID: 12483218. Frankland, P.W., B. Bontempi, L.E. Talton, L. Kaczmarek, and A.J. Silva, The involvement of the anterior cingulate cortex in remote contextual fear memory. Science, 2004. 304(5672): p. 881-3.  PMID: 15131309. Murphy, G.G., N.B. Fedorov, K.P. Giese, M. Ohno, E. Friedman, R. Chen, and A.J. Silva, Increased neuronal excitability, synaptic plasticity, and learning in aged Kvbeta1.1 knockout mice. Curr Biol, 2004. 14(21): p. 1907-15.  PMID: 1550391. Wiltgen, B.J., R.A. Brown, L.E. Talton, and A.J. Silva, New circuits for old memories: the role of the neocortex in consolidation. Neuron, 2004. 44(1): p. 101-8.  PMID: 15450163. Kushner, S.A., Y. Elgersma, G.G. Murphy, D. Jaarsma, G.M. van Woerden, M.R. Hojjati, Y. Cui, J.C. LeBoutillier, D.F. Marrone, E.S. Choi, C.I. De Zeeuw, T.L. Petit, L. Pozzo-Miller, and A.J. Silva, Modulation of presynaptic plasticity and learning by the H-ras/extracellular signal-regulated kinase/synapsin I signaling pathway. J Neurosci, 2005. 25(42): p. 9721-34.  PMCID: PMC2802213. Li, W., Y. Cui, S.A. Kushner, R.A. Brown, J.D. Jentsch, P.W. Frankland, T.D. Cannon, and A.J. Silva, The HMG-CoA reductase inhibitor lovastatin reverses the learning and attention deficits in a mouse model of neurofibromatosis type 1. Curr Biol, 2005. 15(21): p. 1961-7.  PMID: 16271875. Han, J.H., S.A. Kushner, A.P. Yiu, C.J. Cole, A. Matynia, R.A. Brown, R.L. Neve, J.F. Guzowski, A.J. Silva, and S.A. Josselyn, Neuronal competition and selection during memory formation. Science, 2007. 316(5823): p. 457-60.  PMID: 17446403. Li, W., Y. Zhou, J.D. Jentsch, R.A. Brown, X. Tian, D. Ehninger, W. Hennah, L. Peltonen, J. Lonnqvist, M.O. Huttunen, J. Kaprio, J.T. Trachtenberg, A.J. Silva, and T.D. Cannon, Specific developmental disruption of disrupted-in-schizophrenia-1 function results in schizophrenia-related phenotypes in mice. Proc Natl Acad Sci U S A, 2007. 104(46): p. 18280-5.  PMCID: 2084334. Ehninger, D., S. Han, C. Shilyansky, Y. Zhou, W. Li, D.J. Kwiatkowski, V. Ramesh, and A.J. Silva, Reversal of learning deficits in a Tsc2(+/-) mouse model of tuberous sclerosis. Nat Med, 2008; 14, 843–848.  PMCID: PMC2664098. Krab, L.C., A. de Goede-Bolder, F.K. Aarsen, S.M. Pluijm, M.J. Bouman, J.N. van der Geest, M. Lequin, C.E. Catsman, W.F. Arts, S.A. Kushner, A.J. Silva, C.I. de Zeeuw, H.A. Moll, and Y. Elgersma, Effect of simvastatin on cognitive functioning in children with neurofibromatosis type 1: a randomized controlled trial. Jama, 2008. 300(3): p. 287-94.  PMCID: PMC2664742. Cui, Y, Costa, RM, Murphy, GG, Elgersma, Y, Zhu, Y, Gutmann, DH, Parada, LF, Mody, I, and Silva, AJ, Neurofibromin regulation of ERK signaling modulates GABA release and learning. Cell 2008 135(3) pp. 549 – 560.  PMCID: PMC2673196. Ehninger, D., Li, W, Fox, K, Stryker, MP, and Silva, AJ. Reversing neurodevelopmental disorders in adults. Neuron 2008;60(6):950-60.  PMCID: PMC2710296. Lee, Y-S and Silva, AJ. The molecular and cellular biology of enhanced cognition Nat Rev Neurosci. 2009 Feb;10(2):126-40. PMID: 19153576 Ehninger, D. and A.J. Silva, Genetics and neuropsychiatric disorders: treatment during adulthood. Nat Med, 2009. 15(8): p. 849-50. 54.  PMID: 19661989. Zhou, Y, Won J., Karlsson, M.G. Zhou, M., Rogerson, T, Balaji, J., Neve, R., Poirazi, P., Silva, A.J. CREB regulates excitability and the allocation of memory to subsets of neurons in the amygdala. Nature Neuroscience, 2009.  12(11): p. 1438-43 Sep 27.  PMCID: PMC2783698. Silva, A.J., Zhou, Y, Rogerson, T, Shobe, J and Balaji, J. Molecular and Cellular Approaches to Memory Allocation in Neural Circuits. Science, Oct 16 2009;326(5951):391-5.  PMID: 19833959. Shilyansky C, Karlsgodt KH, Cummings DM, Sidiropoulou K, Hardt M, James AS, Ehninger D, Bearden CE, Poirazi P, Jentsch JD, Cannon TD, Levine MS, Silva AJ. Neurofibromin regulates corticostriatal inhibitory networks during working memory performance. Proc Natl Acad Sci U S A. 2010 Jul 12. PMID: 20624961 Ehninger, D., Y. Sano, P.J. de Vries, K. Dies, D. Franz, D.H. Geschwind, M. Kaur, Y.S. Lee, W. Li, J.K. Lowe, J.A. Nakagawa, M. Sahin, K. Smith, V. Whittemore, and A.J. Silva, Gestational immune activation and Tsc2 haploinsufficiency cooperate to disrupt fetal survival and may perturb social behavior in adult mice. Molecular Psychiatry, 2012. 17(1): p. 62-70. PMID: 21079609 Zhou, M, Li, W, Huang, S, Song, J, Kim, J Tian, X, Kang, E Sano, Y, Liu, C, Balaji, J, Wu, S, Zhou, Y, Zhou, Y, Parivash, S, Ehninger, D, He, L. Song, H, 3, Ming, G, Silva AJ mTOR Inhibition Ameliorates Cognitive and Affective Deficits Caused by Disc1 Knockdown Specifically in Adult-Born Dentate Granule Neurons. Neuron 77, 647–654, 2013 PMID: 23439118 Landreth, A. and Silva, A.J. The Need for Research Maps to Navigate  Published Work and Inform Experiment Planning. Neuron 2013 79 411-415 PMID: 23931992 Rogerson, T, Cai, D, Frank, A, Sano, Y, Shobe, J, Aranda, ML, Silva, AJ Synaptic Tagging During Memory Allocation. Nature Reviews Neuroscience 15, 157–169 (2014) PMID: 24496410 Czajkowski, R, Jayaprakash, B, Wiltgen, B, Rogerson, T, Karlsson, MG, Barth, A, Trachtenberg, J, and Silva, AJ. Encoding and storage of spatial information in the retrosplenial cortex, PNAS Proc Natl Acad Sci U S A. 2014 Jun 10;111(23):8661-6 PMID: 24912150 Lee, Y-S, Ehninger, D, Zhou, M,  Oh,  J-Y, Butz, D, Araki, T, Nam, CI, Balaji, J, Sano, Y, Amin, A, Kim, H, Burger, C, Neel, BG, and Silva, AJ.  Mechanism and treatment for the learning and memory deficits associated with mouse models of Noonan syndrome, Nature Neuroscience 17, 1736–1743 (2014); PMID: 25383899 Sano, Y, Shobe, JL, Zhou, M,  Huang, S, Cai, DJ, Roth, BL, Kamata, M, and Silva, AJ. CREB regulates memory allocation in the insular cortex. Curr Biol. 2014 Nov 13;24(23):2833-283 (2014) PMID: 25454591 Silva AJ, Müller KR. The need for novel informatics tools for integrating and planning research in molecular and cellular cognition. Learn Mem. 2015 Aug 18;22(9):494-8. PMID: 26286658 Engineering the next revolution in neuroscience: the new science of experiment planning, 2013 by Alcino J. Silva, Anthony Landreth, John Bickle. Oxford Press, ISBN-13: 978-0199731756 ISBN-10: 0199731756 Edition: 1st
Professor Alcino Silva's web site