yaldat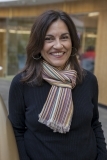 Assistant Adjunct Professor
Founder and Executive Director, Center for Scholars & Storytellers
Ph.D.: UCLA
Primary Area: Developmental Psychology
Address: 2344A Psychology Building
Phone: 310-210 1244
Email: yaldatuhls@gmail.com
Research and Teaching Interests:
I do research on how media affect the social learning and behavior of preteens and adolescents. I'm particularly interested in proactive ways that families and creators of content can use media to positively impact the health and well being of children. I teach a course (167) called Digital Media and Human Development each Winter for upper class undergraduates.
Biography:
Yalda T Uhls, MBA, PhD, teaches and conducts research at UCLA. Dr. Uhls spent over 15 years as a senior film executive at studios such as MGM and Sony, and then earned a PhD in psychology at UCLA in developmental psychology. Her expertise on how media content are created, along with the science of how media affect children, informs her unique perspective.
As a big believer in bridging research and practice, along with many years of translational work for lay audiences, Dr. Uhls recently founded The Center for Scholars & Storytellers, an organization dedicated to bridging science and entertainment media with the goal of maximizing the positive effects of media on youth.
Yalda's research focuses on how traditional and newer media impact the social behavior of preadolescents. Her findings were featured in Time Magazine, the NY Times, USA Today, NPR and others, and and published in journals such as Developmental Psychology and Computers in Human Behavior. In 2015, the Society for Research in Child Development gave Yalda's graduate school research its highest honor: Outstanding Doctoral Dissertation. She also was honored by UCLA and received awards for her disseration and service work, in particular her work with the student run program, Psychology in Action.  Dr. Uhls has been invited to share her knowledge with a variety of audiences including NIDA, the White House, Pixar, the NFL, Google, public school districts, Harvard Business School and others.
​Dr. Uhls​ has written a parenting book called Media Moms and Digital Dads: A Fact not Fear Approach to Parenting in the Digital Age, which is a synthesis of peer reviewed research, written in an accessible style for parents, educators and students. She is on the leadership council of UCLA's Psychology in Action, a graduate student run program that helps students learn how to translate scientific research for the general public. She is an advisor to the Learning Sciences Exchange, funded by the Jacobs Foundation, an advisor to the non-profit Common Sense Media, on the advisory council of YouTube Kids and Family and the advisory council for Barbie.
As the American-born child of Iranian immigrants, Yalda cares passionately about diversity, inclusion and equity and looks to educate youth and adults about myriad ways that explicit and implicit biases affect development. Having benefited from the University of California system – her BA is from UCB, and her MBA and PhD are from UCLA – she believes in the value of public school education and works to pay it forward as an adjunct professor at UCLA and mentor to students, both undergraduate and graduate.
Curriculum Vitae
Representative Publications:
Uhls, Y.T., Felt, L. & Wong, K. (2017). Character is Common Sense: A Report on an Initiative Linking Media, Kids and Character Strengths. Common Sense Report.
Uhls, Y. T., & Robb, M. (2017). How parents mediate children's media consumption. In F. Blumberg & P. Brooks (Eds.), Cognitive Development in Digital Contexts. Elsevier.
Uhls, Y. T., Ellison, N. B., & Subrahmanyam, K. (2017). Social media in adolescence: Selected benefits and costs. Pediatrics.
Boz, N., Uhls, Y. T., & Greenfield, P. M. (2016). Cross-Cultural comparison of adolescents' online self-presentation strategies: Turkey and the United States. International Journal of Cyber Behavior, Psychology and Learning, 6(3), 1–16.
Uhls, Y. T. (2015). Media Moms & Digital Dads. U.K: Taylor and Francis.
Uhls, Y. T., Michikyan, M., Morris, J., Garcia, D., Small, G. S., Zgourou, E., & Greenfeld, P. M. (2014). Five days at outdoor education camp without screens Improves preteen skills with nonverbal emotion cues. Computers in Human Behavior. https://doi.org/10.1016/j.chb.2014.05.036
Yalda T. Uhls personal website detailing work at UCLA and outside of UCLA