Bertram H. Raven (1926-2020)
moattari
Date published: 03/02/20
With sadness, the Department of Psychology at UCLA reports the passing of one of its pioneering members, Professor Emeritus Bertram H. Raven, on February 26, 2020.  He died peacefully at home surrounded by his family, including his beloved wife Celia and his children, Michelle and Jonathan, and grandchildren.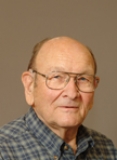 Bert was born in Ohio on September 26, 1926. He served in the infantry at the end of World War II. He received his B.A. in psychology from the Ohio State University in 1948, and then his Ph.D. in social psychology at the University of Michigan, where he worked closely with J. R. P. French and Leon Festinger. He joined the UCLA faculty in 1956 as one of three faculty members in social psychology. He played a key early leadership role in developing that area, among other things in hiring Harold H. Kelley and David O. Sears (thank you Bert!) in 1961. He was later instrumental in initiating a sub-specialty in health psychology within the social psychology area, the predecessor of what is now a nationally prominent program in health psychology. He served in many other roles at UCLA, most notably as chair of the Psychology Department from 1983 to 1988.
He was professionally active as well, serving as President of the Society for the Psychological Study of Social Issues and editor of the Journal of Social Issues, reflecting his life-long commitment to social justice. In his research and scholarship, he was perhaps best known for his theoretical work with J. R. P. French on the bases of social power, which he developed and applied in a number of contexts. He later wrote extensively on small group dynamics, and later in his career, applying that knowledge to hospitals and other health contexts.
As a person, Bert was a gentle and extraordinarily decent man, principled but not moralistic. He was a devoted family man. The love he, his wife Celia, and his children Michelle and Jonathan, shared with each other throughout their lives together was heart-warming to all of us who knew them. Those of us who were fortunate enough to know such a lovely human being will long remember him, and miss him.
— David O. Sears
Categories:
Faculty