Highlighting Faculty Member: Benjamin Karney
moattari
Date published: 01/29/20
Dr. Benjamin Karney's research examines how intimate relationships succeed and fail. Specifically, his work emphasizes how forces external to couples and beyond their control (like stress and socioeconomic status) affect processes within the couple (like communication and satisfaction).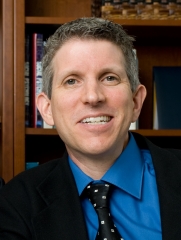 Successful relationships are the foundation of emotional well-being, and relationships with an intimate partner are more strongly associated with well-being than relationships with anyone else. Accordingly, most people seek out intimate relationships, and are happy and grateful when they find one. Yet, despite the best intentions, these same relationships frequently deteriorate over time. Infatuated couples can fall out of love. Optimistic, hopeful newlyweds find themselves divorced years later.
Conventional wisdom suggests that the differences between couples that succeed in maintaining closeness and couples that drift apart or become distressed lie within and between the two partners, for example, in the way they resolve disagreements. The UCLA Marriage Lab conducts research that looks beyond the couple itself to identify the external forces that can play a powerful, if often overlooked, role in the development and maintenance of intimate relationships.
Over the past two decades, all of the work in the lab has been conducted on diverse samples of married couples, usually living in lower-income communities, interviewed in their homes within a few months of their first marriage. Spouses are asked about their own histories, their feelings about their relationship, as well as the circumstances of their lives, like their employment, income, and social connections. Couples are also videotaped talking to each other about areas of conflict and challenges they are facing together. Interviewers then revisit each couple every six to nine months for the next few years to see how the marriage is doing.
A recurring theme in these studies is that the early years of marriage are shaped by couples' circumstances. The same couples who are kind and forgiving when times are calm express hostility and criticism when distracted by stress outside the marriage. Communication patterns that predict declines in satisfaction among affluent couples are associated with more stability and closeness in disadvantaged couples. Overall, this work has profound implications for efforts to promote healthy relationships, suggesting that policies making life easier for couples can improve their relationships without targeting the relationship directly.
Dr. Karney was born and raised in Los Angeles. After getting his undergraduate degree from Harvard, he returned home to pursue his doctorate in Social Psychology at UCLA, and then returned to UCLA again ten years later as a professor. He is also an Adjunct Behavioral Scientist with the RAND Corporation in Santa Monica. He has two children and lives in Westwood with his wife, a therapist. They have pretty interesting conversations.
Categories:
Spotlight