Highlighting Faculty Member Tiffany Ho
scarusoucla
Date published: 06/20/23
Depression often emerges during adolescence, resulting in lifelong sequalae. As director of the Cognition Affect and Neurodevelopment in Youth (CANDY) lab, Dr. Tiffany Ho seeks to understand the neurobiological factors contributing to depression in adolescents.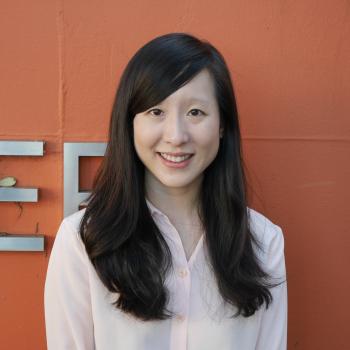 The CANDY lab investigates how the neurobiological systems underlying our thoughts, emotions, and behaviors change over the course of adolescent development and how experiences and perceptions of stress affect these patterns of brain maturation. Given the immense public health burden of depression and other related conditions (e.g., anxiety, suicidality), the overarching goal of our work is to innovate neuroscience-based models of depression that will improve current diagnostic systems, treatment guidelines, and clinical outcomes in this high-risk population.
We use a suite of clinical neuroscience tools to answer our research questions. Our primary methods include non-invasive multimodal magnetic resonance imaging (MRI) based techniques that probe brain metabolism and delineate functional and structural brain patterns associated with stress and depression in adolescents. We also collect blood samples to examine markers of immune functioning and oxidative stress. More recently, we are linking from wearables (e.g., smartphones) with MRI patterns of brain function in order to better understand adolescent health and behaviors outside of the laboratory and to potentially generate 'scalable biotypes' of depression.
Other projects in the lab include using machine-learning approaches on large data sets to identify predictors of adolescent depression and to better characterize how early life adversity impacts the brain across stress-based disorders (e.g., depression, PTSD).
Bio: Dr. Ho was born and raised in the San Francisco Bay Area and studied Cognitive Science as an undergraduate at UC Berkeley before earning her Ph.D. in Psychology (Cognitive Neuroscience) at UC San Diego. Dr. Ho completed a postdoctoral fellowship in clinical neuroscience at UC San Francisco followed by additional training in affective science at Stanford University. Before moving to UC Los Angeles, Dr. Ho was an Instructor in the Department of Psychiatry and Behavioral Sciences at Stanford University and then an Assistant Professor in the Department of Psychiatry and Behavioral Sciences at the University of California, San Francisco. She enjoys the sunshine and diversity of art, music, and food that Los Angeles has to offer.
Categories:
Spotlight