Highlighting Faculty Member Yuen Huo
moattari
Date published: 06/01/18
The U.S. and other immigrant receiving nations are experiencing unprecedented levels of growth in population diversity. With the U.S. well on its way to becoming a majority-minority nation, optimism about the viability of a diverse society has given way to escalating tension between those who embrace change and those who resist it. My research identifies the conditions and mechanisms that determine the outcome of social diversity.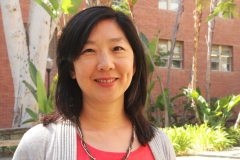 The U.S. Census Bureau projects that by 2042, no ethnic group in the U.S. will comprise a numerical majority with growing populations of Asians and Latinos and a shrinking population of Whites. Diversity provides the catalyst and opportunity for innovation and growth. Yet, change can be difficult. My lab incorporates the perspectives of multiple stakeholders across different contexts (e.g. Whites vs. ethnic minorities in the U.S., men vs. women in STEM; first generation vs. continuing generation college students) to understand how individuals from different backgrounds shape and are shaped by social diversity. We take a broad social science perspective and use methods that range from behavioral experiments to national field surveys to identify the psychological processes that underline intergroup conflicts.
One problem we are pursuing is to understand how advantaged group members experience diversity growth. One line of work investigates how the prospect of becoming a numerical minority affects Whites' sense of identity, which then shapes this critical group's views about immigration and diversity policies. Another line of work examines how men in STEM respond to efforts to recruit and retain more women in their professions. Our work highlights the role of social identity processes in determining whether and to what extent social and cultural conflicts escalate. Our goal is to produce theory-driven research that can engage leaders, policy makers, and workplace managers in discussions about how to meet the challenges of diversity. My commitment to translational science stems from my post-doctoral training at the Public Policy Institute of California and my collaborative work with an interdisciplinary group of scholars at the Russell Sage Foundation.
I come to study intergroup relations in the U.S. from the perspectives of both an outsider and an insider. I was born in Taiwan to parents who migrated from Mainland China, but have lived in various parts of California since childhood. As a first generation college student who has benefited tremendously from the public higher education system in California (my degrees, B.A., M.A., Ph.D., are all from UC Berkeley), I find my interactions with undergraduate and graduate students at UCLA to be a highly rewarding aspect of my job. I am fortunate to call the vibrant city of Los Angeles home where I reside with my husband, a professor of education at California State University Northridge, and our two children.
Categories:
Spotlight