Jenessa Shapiro Memorial Fund
moattari
Date published: 02/13/19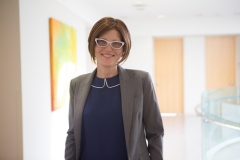 Dear psychology faculty, students, and staff,
We all lost a tremendous friend, colleague, and scientist when Jenessa Shapiro passed away at the end of last year. It was a painful loss for me personally and I continue to be inspired by the kind of person Jenessa was and how she lived her life.  From the first time I met her during her job interview at UCLA over a decade ago until the last time I saw her, she was always full of life, humor, and commitment to the ideals she cared about.  I've spent the time since her passing thinking about how best to honor Jenessa.  I've done whatever I can to keep her research alive by trying to make sure that everything she was working on with her students and colleagues will be allowed to reach completion so that Jenessa's scientific legacy will continue to build with her collaborators carrying that forward.  But I wanted to find a keep to keep her memory alive into the future, for perpetuity.
To that end, I've worked with Sabrina and the Life Sciences development office to create a graduate student award in Jenessa's name. The award will focus on the topics that Jenessa was passionate about – diversity and social justice. Obviously most of our awards come from outside donors who give a considerable gift. While we do not have such a donor, my hope is that we in psychology will all come together to fund this award so that every year into the future, new graduate students will apply for and learn about and thus extend Jenessa's legacy. Naomi and I will make a significant contribution to this fund. Additionally, Noah Goldstein, Jenessa's husband and a social psychologist at Anderson, has generously offered to match the first $10,000 in donations to this award. While the specifics of the award will depend on the funds that can be raised, the goal is to give the award to a student in psychology or at Anderson (where Jenessa was half time) whose research contributes to the study of diversity and social justice.
If you are able to contribute to this fund, no matter how small of a contribution, it will be greatly appreciated. Please make your check payable to the UCLA Foundation, noting Jenessa Shapiro Memorial Graduate Fund on the memo line and mail your gift to the attention of Janice Shintaku at UCLA College of Letters and Science, 1309 Murphy Hall, Box 951413, Los Angeles, CA 90095. My understanding is that any contribution is tax deductible.
You can also make a gift online by visiting the following website www.giving.ucla.edu/ShapiroMemorial.
Please review UCLA and the UCLA Foundation's Disclosure Statements for Prospective Donors at www.uclafoundation.org/disclosures. If you have any questions, you can contact the development office via Janice Shintaku at jshintaku@support.ucla.edu or 310-825-1530.
I hope you'll consider contributing, both as a way to commemorate Jenessa, our friend and colleague, and to promote research in the area that Jenessa cared most about.
Sincerely,
Matthew D. Lieberman, Ph.D.
lieber@ucla.edu
Categories:
Faculty