Psychology Staff Spotlight Award – Aaron Stamper
moattari
Date published: 12/19/19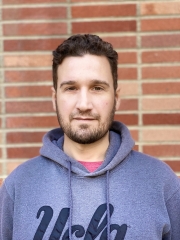 We are happy to announce that Aaron Stamper, Instructional Lab Specialist, has been selected to receive the Psychology Staff Spotlight Award this quarter. With a positive attitude and great work ethic, Aaron has made significant contributions to the Psych IT Unit and the Psychology Department as a whole.
Aaron began his career at UCLA as a Psychology undergraduate student in 2009. Not only did he receive a degree in Psychology, but he also received an ADP minor and was a participant in our PROPS program. Aaron returned to UCLA in 2013 as an employee for University Extension. He started working here in Psychology in 2018.
In his free time Aaron enjoys dancing, long distance bike riding, and scuba diving. Aaron is a San Francisco Bay Area native and roots for the 49ers, Sharks, Warriors, and Giants. In December 2019, Aaron and his wife were married in Las Vegas. Congrats Aaron and thank you for all that you do!
Categories:
Staff Spotlight