Psychology Staff Spotlight Award – Eileen Santos
moattari
Date published: 01/22/21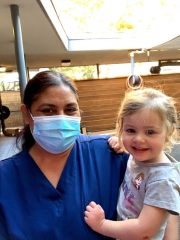 We are happy to announce that Eileen Santos has been selected to receive the Psychology Staff Spotlight Award for this quarter. Eileen has been a teacher at the Megan E. Daly Infant Development Program (IDP) for 12 years! She is a strong and dedicated teacher who has always worn many hats in the classroom. She has a passion not only for infants and toddlers but also for the program as a whole. She looks out for everyone that she comes into contact with, from colleagues and student interns to parents and the children who she cares for each day.
Eileen has been a true asset to the program during the last several months of the pandemic. IDP closed for a few months due to COVID-19. Once it was decided that IDP would reopen in July, the teaching team sprang into action to figure out the best way to reopen. Eileen took the lead in the Blue Room and worked closely with teammates to enact safety protocols and ensure a smooth transition back into the classroom. Eileen recognized children whose birthdays were missed during the closure, and she sent completed journals and graduation acknowledgements to families who didn't return to IDP. Eileen and IDP staff had to adjust to a new environment without student interns and with less people working in the classroom; even in spite of leaner conditions, they kept things running as efficiently as possible.
Eileen continues to think of ways to make IDP the best it can be with all of the modifications that the new protocol has brought to the program, from updating children's transition plans to making sure the lounge is appropriately organized. Thank you, Eileen, for all that you do for IDP!
Categories:
Staff Spotlight