rosamariorduna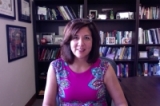 Professor
Ph.D.: San Diego State University/University of California San Diego Joint Doctoral Program in Clinical Psychology
Primary Area: Clinical Psychology
Address: 3183 Franz Hall
Phone: 310-825-8466
Email: dchavira@psych.ucla.edu
Research and Teaching Interests:
Broadly my research interests include Latino mental health, anxiety, and treatment development. My research focuses on examining the effectiveness of empirically supported interventions for anxiety disorders in diverse groups, including Latinos, low-income, and rural populations, using feasible modes of service delivery. I am also interested in examining cultural factors that may influence psychopathology in Latinos, as well as the impact of culture on conceptualizations of mental illness and service utilization.
Biography:
Denise Chavira, Professor of Psychology, received her B.A. in Psychology from University of California, Berkeley and her Ph.D. from the University of California, San Diego (UCSD)/San Diego State University Joint Doctoral Program in Clinical Psychology. She completed her pre-doctoral internship at Brown University and a postdoctoral fellowship at UCSD. Dr. Chavira also received postdoctoral training at UCLA's Childhood OCD, Anxiety, and Tic Disorders Program. Dr. Chavira has been a recipient of a NIH/NIMH Mentored Research Scientist Award (K01), which provided funding for projects to examine barriers to service use, engagement strategies, and interventions for children with anxiety disorders in primary care settings; with a subfocus on Latino youth. Dr. Chavira also has received NIH/NIMH funding to support a pilot intervention examining the feasibility of telephone based, cognitive behavior therapy, attention bias modification training, and app-based mindfulness for rural and Latino youth with anxiety and depression. Dr. Chavira publishes in the areas of child and adult anxiety and depressive disorders, Latino mental health, mental health services research, and evidence based interventions.
Publications
Chavira Lab website (CALMA)