Infant Development Program
UCLA Department of Psychology
320 N. Charles E. Young Dr.
Los Angeles, CA 90095-1563
Office: (310) 206-0633
Email: pwinn@psych.ucla.edu
*IDP's office phones, for administrative and non-urgent calls (equipped with voice mail-please feel free to leave messages here and we will respond.)
IDP Teachers
IDP has seven staff members: one executive director, five full-time teachers, and one floater teacher. Each has extensive training and experience in early childhood education and developmental psychology. Additional staffing is provided by student interns. IDP has a favorable adult: child ratio of 1:3 or better.
---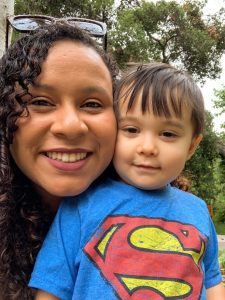 Sara Beckley, Teacher
Sara started her internship in the Applied Developmental Psychology Program in the IDP Franz classroom in September 2011. After completing her internship, she stayed on another year as a volunteer. She was able to avoid saying goodbye to IDP after she graduated in the spring of 2013, when a teaching position opened up. Sara began to work full time at IDP during the summer of 2013. She received her BS in Psychobiology and hopes to continue on to graduate school in the future. She especially enjoys shopping, traveling, trying out new restaurants in the LA area, playing video games with her little brothers and marathoning whole series of TV shows on Netflix. She is overjoyed to be a member of the IDP team.
Contact: sbeckley@psych.ucla.edu
---
Jose Ortiz, Floater Teacher
Jose began his time at IDP in the spring of 2019 with an internship in the IDP Blue Room. After completing his internship, he remained at IDP as a graduated intern volunteer. In the spring of 2020, Jose graduated from UCLA with a B.A. in Psychology and minors in Applied Developmental Psychology and Neuroscience. In his free time, he likes spending time with friends and family, watching Disney movies, and playing with his puppy! He is excited to be back at IDP and spend time with all of the children and families at IDP!"
Contact: jortiz@psych.ucla.edu
---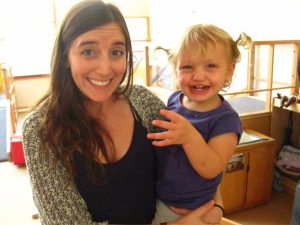 Elisheva Hochberg-Miller, Lead Teacher
Ellie began her time at IDP in the fall of 2014 with an internship at IDP Franz. In spring of 2015 she completed her internship and graduated from UCLA Cum Laude with a B.A. in Psychology and a minor in Applied Developmental Psychology. She was thrilled not to have to leave IDP when a primary teacher position opened up at IDP Fernald! She began teaching immediately after graduation, in the summer of 2015. When she isn't in the classroom, Ellie enjoys reading, time with family, and relaxing at the beach. She is so ecstatic to be working in a field she is passionate about at a facility she loves with children who inspire her.
Contact: elishevahm@psych.ucla.edu
---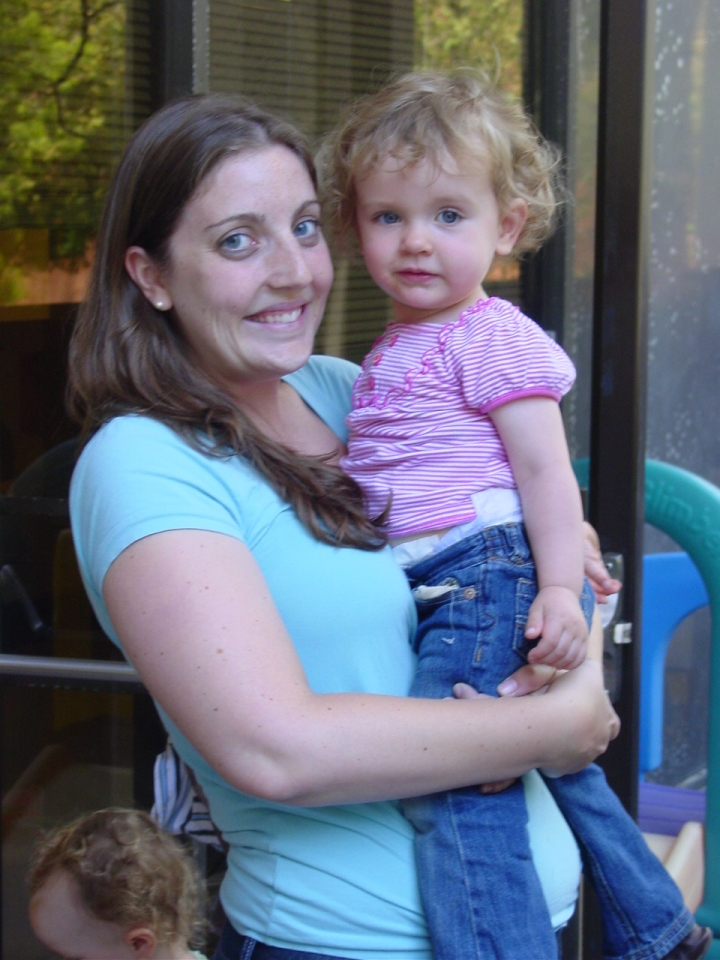 Courtney Kumar, Lead Teacher
Courtney Kumar graduated Magna Cum Laude from California State University, Northridge with a Degree in Child Development. From there she graduated with honors with a Masters in Child Development from the University of California, Davis. Mrs. Kumar is also a Certified Child Life Specialist. She has been working at IDP since February 2009 and enjoys learning new things from the children daily. In her free time, she enjoys running charity 5k and 10k races.
Contact: Ckumar@psych.ucla.edu
---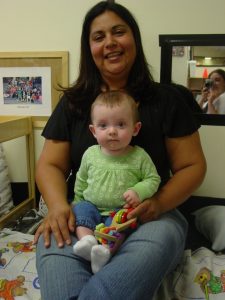 Eileen Santos, Lead Teacher
Eileen Santos earned her AA Degree in Early Childhood Education, with an emphasis in Special Education from Santa Monica College. Ms. Santos is a wife & a mother of four daughters and a grandmother of six grandchildren. Her two older daughters attended the Head Start Program in the State of California, where she diligently worked as a parent volunteer for four years. This program led her to pursue her career as an early childhood educator. She was a lead teacher in early childhood education for twelve years working with children ages three to five years. In the Fall of 2008, she joined IDP to work with the infant and toddler program. Here she has devoted her time and energy to our young children, as well as to mentoring the students in our Applied Developmental Psychology minor.
Contact: Esantos@psych.ucla.edu
---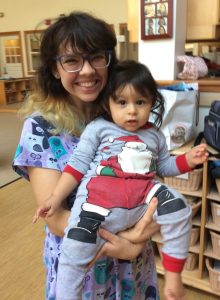 Samantha Stewart, Teacher
Sam began her time at IDP in the spring of 2015 with an internship in the IDP Gold Room through the Applied Developmental Psychology (ADP) minor. She remained at IDP as a volunteer until her graduation in spring of 2017. She graduated with a B.A. in Psychology and Minors in ADP and East Asian Studies. Upon graduation, Sam took her IDP knowledge and experience to the Loyola Marymount University Children's Center. She acted as a support staff teacher there for two months, then moved into a primary teacher role in their infant classroom for 10 months. In her free time, Sam enjoys reading, painting, spending time with friends and family, and finding new place to eat. Sam is thrilled to be back at IDP! She is excited to get to know all the children and families, and learn and grow with the children every day.
Contact: sstewart@psych.ucla.edu