Note to Prospective Clinical Area Applicants:
In the UCLA clinical psychology program, admissions decisions are made by an admissions committee, not by individual faculty members. However, admissions decisions do take into consideration the match between the interests of those faculty and the relevant interests and experience of applicants and which faculty have openings for new students. It is strongly recommended that applicants visit the Faculty page to learn more about faculty interests as well as the Student Admissions, Outcomes and Other Data page to review GRE and GPA statistics for students who successfully entered our program in recent years.
Interview dates for the upcoming 2024 admissions cycle is TBD.
The following Clinical Area faculty anticipate having an opening for new students in their labs for Fall 2024 Admission:
Denise Chavira, Ph.D.
Bruce Chorpita, Ph.D.
Michelle Craske, Ph.D.
Tiffany Ho, Ph.D.
Katherine Karlsgodt, Ph.D.
Anna Lau, Ph.D.
Lara Ray, Ph.D.
Clinical Area Application Requirements
Consistent with the policy of the UCLA Department of Psychology, applicants to the clinical psychology doctoral program at UCLA will not be required to take the GRE.
GRE General Test: Applicants for admission to our graduate program are not required to submit a GRE score report as part of their application package. Applicants may voluntarily submit GRE test scores and they will be reviewed as one part of the holistic application consideration. The applications with GRE scores will not be given greater weight than those that do not include scores. During the 2020 and 2021 admission cycles combined, 25% of applicants to the UCLA Psychology graduate program submitted GRE General Test scores. The number of applicants that applied, submitted GRE scores, and the percentage of applicants that submitted GRE scores, organized by Area, can be found in the table below.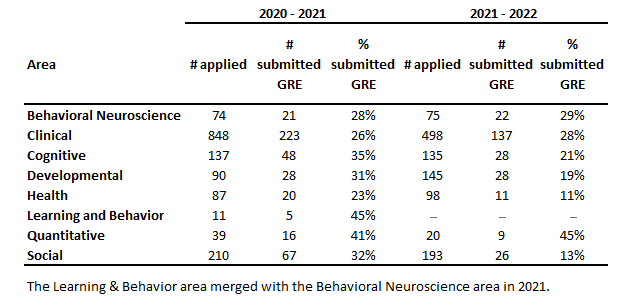 GRE Psychology Subject Test: The GRE Psychology Subject Test is not required and will not be used to make admissions decisions. However, students who score above the 70th percentile can use the GRE Subject Test to partially fulfill Discipline-Specific Knowledge requirements (e.g., cognitive, social) that are part of accreditation by the American Psychological Association. In this way, admitted students may be able to reduce the amount of, or more flexibly select, coursework needed to complete program requirements. Students may elect to take the GRE Subject Test after their admission into our program and all program requirements can be fulfilled without taking the test.
Please note that your admission to the program is conditional on your passing Live Scan background check, which is required for your participation in clinical practica and internship. We can help facilitate the process when you arrive at UCLA.