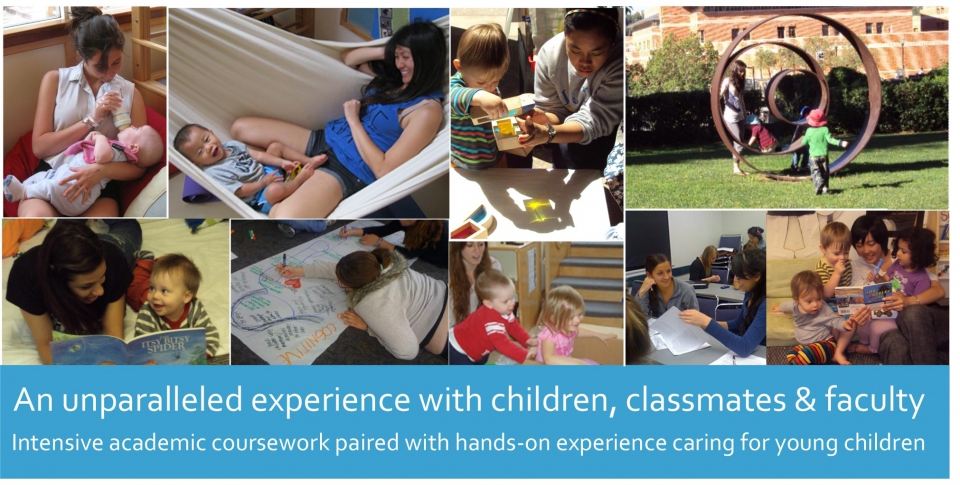 The ADP childcare internship, completed by every student in the minor, enables students to observe child development, education, and policy in action, and to develop hands-on professional skills and experience. Placements are determined by program needs, classroom availability and our commitment to developing breadth as well as depth in students' experience. Students benefit from individualized mentorship by an experienced professional on staff for the duration of each internship. 
We also partner with community-based organizations to enable students to apply their skills and knowledge from their ADP campus childcare internship and coursework to support children and families in communities beyond campus, particularly those facing barriers to the care and resources all children deserve and need.
How the ADP Internship & Core Courses Connect
The ADP core coursework and internship are closely integrated, enabling students to learn as they teach and to strengthen their own development while providing a valuable service to the children, staff and families with whom they work.
Psychology 134A/134D, 134B/134E and 134C are taken in consecutive quarters. The lecture/discussion portion of the course is 3.5 hours per week, taken on a 4-unit, letter grading basis, and the concurrent internship component is 9 hours per week (15 hours per week during summer sessions), taken on a 2-unit, P/NP grading basis. Psychology 134A is to be taken concurrently with Psychology 134D and Psychology 134B is to be taken concurrently with Psychology 134E. The third quarter course, Psych 134C, a 4-unit P/NP course, engages students in continuing fieldwork and an intensive once-weekly seminar.
ADP Campus Childcare Internship Sites
Since the fall 1997, all our approved ADP Childcare Internship sites are accredited by the National Academy of Early Childhood Programs. Each ADP student intern is placed at a pre-approved site and paired with an experienced teacher. Their supervising teacher serves as their guide and mentor throughout the three quarters of their internship. Placements are based on each classroom's needs, our commitment to broadening student experience (i.e., students are not placed at a site at which they have already worked) and, for the off-campus ECE University Village placement, ability to take the bus, bike or drive to Sepulveda and National Blvds, 20 minute travel from campus. (Note: we are not currently placing students at ECE University Village.)
Here is a list of the sites at which students have been placed at in order to complete the required 240 internship hours for Psychology 134A/D, 134B/E and 134C:
UCLA Department of Psychology Infant Development Program (IDP), located at the Fernald center on the northern edge of campus:
320 Charles Young Drive North
Los Angeles, Ca 90095-1462
UCLA Early Care and Education, with three locations on and off campus:

Krieger Center (off Bellagio Drive, near the dorms in the northwest part of campus)
Fernald Center:
320 Charles Young Drive North
Los Angeles, Ca 90095-1462
University Village Center:
3233 S. Sepulveda Boulevard
​Los Angeles, CA 90034
What Do ADP Campus Childcare Interns Do?
A Day in the Life of an ADP Campus Childcare Intern by Amy Luu, ADP 2013 (now an occupational therapist at UCLA Health!)
Whether we open early in the morning or close later in the evening, interns are greeted with warm waves, smiles, and even a knee hug from the children. We engage in hands-on activities from prepping snacks to rocking children to sleep. We experience close interactions with the children through reading stories together while also learning about each individual child's development through close observation. Because we work at least 8 hours each week across many months, we are able to observe gradual developments such as an infant beginning to crawl, gaining the strength to stand and even learning to walk, run and jump.
Although working with young children may seem like all fun and games, interns must complete daily tasks such as sweeping the outside patio, continuously sanitizing tasted toys, cleaning up peas that have fallen off the table during lunch, and changing poopy diapers. We may be asked to sit quietly beside children as they nap for an extended period of time.
We come to discover that we can learn from every moment (even the less glamorous or dramatic ones), and that our unique experience with the children and teachers makes even the tedious tasks worthwhile. Diaper changes, for example, become opportunities to engage and share one-on-one moments with a child. Many of us enjoy our time so much that we ask to stay on as volunteers long after our ADP commitment is complete.
The ADP Community-Engaged Early Childhood Internship: CEECI
The COVID-19 pandemic demanded that we diversify the internship to include remote and community-engaged internships that provide students with the opportunity to work with young children, their families, and their communities beyond UCLA. In doing so, we embraced the opportunity to better address systemic barriers to high quality early childhood care, education, and resources.
Since 2021, 68 ADP students have volunteered over 4,000 hours and partnered with 15 non-profit agencies to combat the intertwined effects of systemic racism, poverty and the COVID-19 pandemic. After initiating a remote-only version of the Community-Engaged Early Childhood Internship, CEECI, in 2021, students in the 2021-22 and 2022-23 "A" cohorts completed at least 150 hours at their UCLA childcare site and 50-90 hours in a community-engaged internship. They completed the internships in sequence, i.e., fall and winter at the UCLA childcare site, then spring in CEECI. (In a Cohort B model, students work 9 hours per week in the UCLA IDP classroom throughout all three quarters, and throughout the 12 weeks of summer they also work 6 hours per week in a community-engaged internship.)
Some internships are designed to be remote, some hybrid, and some in-person throughout metropolitan LA. Interns' activities have included: 
Caring for preschool-age children in a Headstart program in Koreatown
Advocating at city and state levels for nutrition subsidies for family-based childcare providers
Coordinating events and social media to support ongoing training and equity efforts of early intervention professionals
Conducting research and collecting the stories of children and families awaiting asylum at the Tijuana border.
Note: For the coming year (2023-24), ADP students are invited to participate in CEECI upon completion of the three-quarter core sequence and campus childcare internship. We look forward to continuing to grow and further integrate CEECI into the minor!
Fees, Clearances & Certifications Associated with the ADP Internship & Core Courses
Because the ADP internship involves placement at a childcare program licensed by the State of California Department of Social Services, state law requires that all interns complete the following clearances and certifications prior to beginning at their internship site. We expect students to complete these requirements by the middle of the quarter after their admission to ADP. Forms and further detailed information is provided to incoming students immediately upon admission:
Livescan electronic fingerprint background check involving clearance with both the CA Department of Social Services and the CA Department of Justice. This procedure can be completed at the UCLA Police station following admission to ADP and assignment to an internship site. The cost is between $75 and $100.
Health screening, immunizations and TB-test (or chest X-ray). The health screening can be performed by your personal physician or by UCLA Student Health Services. The health screening and immunization updates (including with the current inflluenza vaccination) must be completed before employment begins or initial presence in the facility is permitted. Costs vary. (See ADP FAQ for details)
Adult and Infant CPR and Basic First Aid. The UCLA Student Wellness Commission provides low-cost, convenient on-campus training for $10 per class.
Students are required to purchase course readers for both 134A and 134B courses at a cost of approximately $40-45 each, and occasional minor costs for materials (e.g., report covers, poster board, optional materials for children's curriculum).