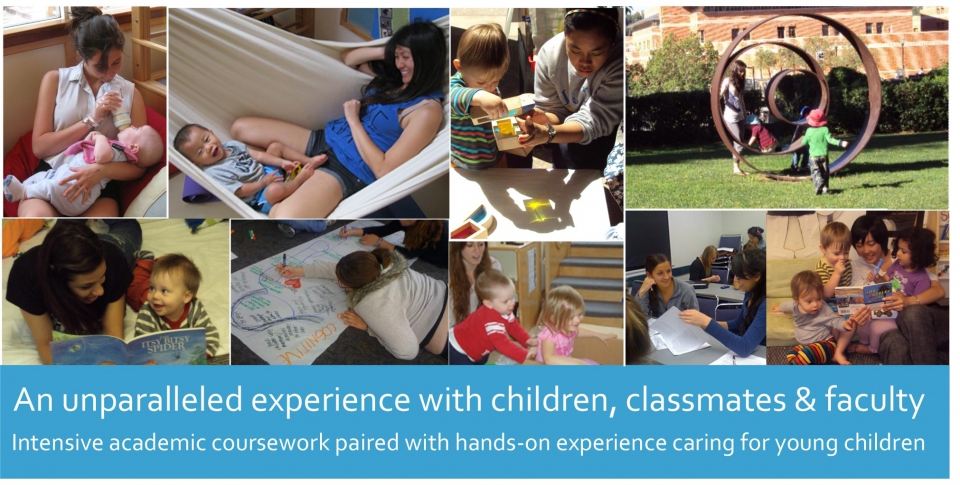 Permission to enroll in the ADP internship is granted ONLY through application and admission to the ADP minor.
Each student in the ADP minor completes two unique internships: first, at one of several UCLA childcare centers accredited by the National Association for the Education of Young Children (NAEYC), and second, at a community agency working with and/or on behalf of young children to reduce barriers to high quality early education and care for all children in our immediate and regional communities.
Our internships enable students to observe child development, education, and policy in action, and to develop professional skills and experience. Placements are determined by program needs, classroom availability and our commitment to developing breadth as well as depth in students' experience. Students benefit from individualized mentorship by an experienced professional on staff for the duration of each internship.
The ADP coursework and internships are closely integrated, enabling students to learn as they teach and to strengthen their own development while providing a valuable service to the community. Psychology 134A/134D, 134B/134E and 134C are lecture/discussion courses in which students must enroll concurrently with the internship. The courses have been specifically designed to provide the student with the experience of being in a child care setting. The class focuses on concepts, issues, and research in applied developmental psychology relating to the ongoing field experiences of the students.
Please Note: Psychology 134A/134D, 134B/134E and 134C are to be taken in consecutive quarters. The lecture/discussion portion of the course is 3.5 hours per week, taken on a 4 unit, letter grading basis, while the internship component is 9 hours per week (15 hours per week during summer sessions), taken on a 2 unit, P/NP grading basis. Psychology 134A is to be taken concurrently with Psychology 134D and Psychology 134B is to be taken concurrently with Psychology 134E. Psych 134C is continuing fieldwork combined with a lecture and is offered for 4 units on a P/NP grading basis.